Fluid Conveyance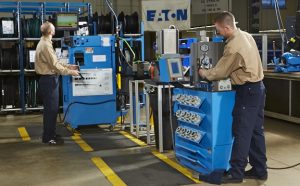 One of the easiest ways to maximize productivity is through dependable product performance and customer satisfaction. At Price Engineering, our fluid conveyance products and hose assembly techniques are set up to do just that. Working closely with the customer, our production volume hose assembly provides full kitting capabilities, including automated cutoff and labeling for production assembly, projectile cleaning of hose assemblies and automated storage and retrieval of production parts to cut down assemble time.
With more than one million assemblies, our quality control procedures include heat shrinking hose ends to seal and keep them clean until installation, resulting in only a .0004 percent defect rate.
Additionally, our qualified staff can consult with your engineers to troubleshoot your fluid conveyance issues and recommend solutions, such as vendor-managed inventory.
As a provider of Eaton Aeroquip products, all our hose assemblies are engineered to work together. This higher quality product provides an overall lower cost of ownership over the life of your machine. Some other advantages of the Eaton product line include:
Triple Crown products offer superior pressure, temperature and abrasion resistance
Dura-Kote plating technology provides 3x the corrosion resistance as competitive products
Lifesense hydraulic monitoring system monitors the health of hydraulic hose assemblies while they are in use
Increased safety of the hydraulic system by utilizing the same manufacturer for the hose and hose ends
All assembly staff are fully trained by Eaton technicians.
Signup Today

to get our monthly Enews delivered to your inbox.