← Older posts
For high operating rations and efficient hydraulics.
With a speed-controlled motor, the efficiency of a hydraulic drive in the lathe can almost be doubled. The supply of the
functions is tailored to the needs and thus as efficient as possible. But other applications also benefit from this type of
drive, for example, by a very precise speed control. Read more from Hawe Hydraulics.
The addition of Poclain Hydraulics and Danfoss Drives round out a comprehensive portfolio.
Price Engineering, a leading distributor and systems integrator in the state of Wisconsin, continues to add to its supplier line-up with the additions of Poclain Hydraulics and Danfoss Drives.
Poclain Hydraulics is a world leader in hydrostatic transmissions based on high performance, cam-lobe and radial-piston motors. Price will have access to their full line of motors, pumps, valves, electronics and other related hydraulic components for mobile vehicles.
Danfoss, a global provider of industrial automation products, will work with Price to supply their Danfoss VLT® and Vacon variable frequency drives (VFD's). Used to control the speed and torque of electrical motors, the addition of these drives is an additional step in Price's automation strategy.
"We are proud to join forces with these two world class leaders in the hydraulic and VFD markets." says Tom Price Jr., president and CEO of Price Engineering. "With the addition of these two suppliers we are continuing to provide OEM's and users with a comprehensive portfolio of quality hydraulic and automation products."
Each of the product lines work well in industrial markets such as marine, construction, mining and rail. For both suppliers, Price's territory covers Wisconsin, Upper Michigan and Northern Illinois.
The addition of these suppliers comes only weeks after Price announced a distribution agreement with Rethink Robotics, a Boston, MA company that builds smart, collaborative robots.
Introduction of the Blue and Improved Flat-1®, including nineteen new features.
University Park, IL, USA – Bimba, an industry-leading innovator of pneumatic, hydraulic and electric motion solutions, today announced the release of the latest in its cutting edge, compact air cylinders – the Blue and Improved Flat-1®. "Blue (as in New) and Improved" designates Bimba products that have been redesigned to offer enhancements applying the most recent advances in design technology.
The Blue and Improved Flat-1® features 19 new product enhancements such as permanent grease lubrication, hard chrome-plated piston rods and an improved bumper design. The Blue and Improved Flat-1® continues the Blue and Improved program initiated a few years ago with the release of the Blue and Improved Original Line®.
Kent Sowatzke, Bimba's Chief Operating Officer, says, "The Blue and Improved Flat-1® project reflects Bimba's continued commitment to improving our core products and providing solutions that serve our customers in the compact cylinder market. For applications in which space is tight, the Blue and Improved Flat-1® offers durability and precision, across an industry-leading breadth of cylinder options."
Rethink Robotics' ClickSmart family of gripper kits shows that smart automation no longer stops at the wrist.
Rethink Robotics today announced the ClickSmart™ series, a unique solution for end-of-arm tooling that incorporates smart sensing and rapid swapping capabilities, resulting in the first fully integrated robotic solution available on the market through a single vendor.
Rethink's latest innovation to simplify robot deployments, the ClickSmart series, offers the new ClickSmart Plate, an intelligent toolplate that lets users swap end effectors in seconds, by hand and without any tools. Embedded sensors in the five new gripper kits enable intelligent grasping and smarter part handling on Rethink Robotics' Sawyer™ robot powered by the Intera™ 5 software platform.
The ClickSmart family of gripper kits contains the essential components that allow end users to quickly construct end effectors suitable for most automatable tasks, enabling faster deployments and saving manufacturers hours in programming and part sourcing. The ClickSmart series includes five different categories of gripper kits and a ClickSmart Plate with embedded sensing, gripper recognition and the ability to access actuators and sensors through Rethink Robotics' software platform.
"The ClickSmart family of gripper kits will allow our customers to deploy robots faster, more intelligently, in more tasks and applications and without any time-consuming customization," said Scott Eckert, president and CEO, Rethink Robotics. "Never before has a robot manufacturer offered a single source solution for fully integrated deployments. Through the combination of Sawyer, Intera 5 and ClickSmart, the single source is Rethink."
The ClickSmart family of gripper kits greatly reduces sourcing efforts for manufacturers, who no longer need to search through multiple catalogs to select components and compare prices. Instead, manufacturers can purchase a fully integrated solution from Rethink Robotics. The gripper kits are available in large pneumatic, small pneumatic, large vacuum, small vacuum and foam vacuum options.
Customizing an end effector can be a significant pain point for industrial robot users, as it requires specialized expertise in mechanical design, signal configuration and task flows that many manufacturers don't have on staff. A well-designed and easily configured end effector is vital to the success of the most high-performing and complete automation solutions, and will open up a variety of new applications for any robot.
With a simple click, manufacturers can switch out end effectors on the robot in seconds. The ClickSmart Plate has an embedded memory module, which stores the configuration of the attached end effector. When the ClickSmart Plate is attached to any Sawyer robot, the robot will immediately recognize the type of end effector and how to control it, with no programming needed.
"Rethink Robotics' ClickSmart family of gripper kits is a game changer for manufacturers who want to deploy these robots more quickly. These grippers allow more flexibility to switch tooling between applications.," said Phil Shaltz, President, Shaltz Automation. "Flexible robots and tooling in today's manufacturing environment is what is needed to provide efficiency and application differentiation in this ever-changing automation landscape."
The ClickSmart series will be available for purchase beginning in May. For more information, visit www.rethinkrobotics.com.
Join Price for two-full

days of keynote sessions, technical sessions, and a technology expo at the Fluid Power Technology Conference. The program will take place May 16-17, 2017 at the Milwaukee School of Engineering. Price customers receive a special registration rate of $150.
Visit http://www.fluidpowertechconference.com/marketing-price-engineering/ for more information.
Price to distribute Rethink's collaborative robots throughout Wisconsin
Wisconsin's manufacturing workforce may find themselves working alongside a robot in the near future thanks to a new distribution agreement between Price Engineering of Hartland, WI and Rethink Robotics of Boston, MA.
According to Tom Price Jr., President and CEO of Price Engineering, "Collaborative Robots, sometimes known as cobots, are changing the industrial landscape with their ability to take on dull and/or repetitive tasks that may be unappealing to human workers. They are specifically designed to integrate into the existing workforce and equipment, without the need for fixed guarding or even extensive programming knowledge."
"These robots are smaller, lighter and more cost effective as they complement a current work environment. The overall system is designed so existing staff can 'train' or 'retrain' the robot simply by moving the arm in the work motion they are looking for."
Scott Eckert, president and CEO at Rethink Robotics adds, "Technology is quickly changing modern manufacturing in the U.S. In order to stay competitive, companies are finding they need to automate manual processes. With Rethink's combination of hardware and software, combined with Price's integration and engineering knowledge, we are excited to be bringing Wisconsin's manufacturers the best resources to adapt automation technologies."
To date, Rethink's Robots have been deployed for several industry applications including CNC machining, metal fabrication, packaging and material handling and test and inspection processes.
Sawyer™, Rethink's latest Robot, weighs less than fifty pounds and features seven degrees of freedom allowing it to reach into tight spaces and various alignments in a work area. Able to "feel" and "see", Sawyer™ runs on Rethink's Intera™ software for easy training and implementation.
"Price Engineering continues to look for innovative solutions in the area of automation and motion control." says Price. "We are excited to work with Rethink Robotics, a U.S. based company, to help our customers automate their applications, address potential labor shortages and realize gains in productivity."

Watch as more than 80 middle schoolers (ages 11-14) comprising a total of 21 teams will compete in National Fluid Power Association (NFPA) Fluid Power Challenge hosted by Price Engineering, Eaton Corporation and Waukesha County Technical College (WCTC). Only in its second year, the event and number of teams has more than doubled from its inaugural year.
The teams will each have three hours to construct a fluid power mechanism they have been working on designing during recent weeks. To complete the task, each team will be supplied the same challenge event kit consisting of various wood pieces, corner gussets, wooden wheels, plastic tubing, and glue.
Each team's fluid power mechanism will then be placed into an 11" square, surrounded by a 1" high by 1.5" thick wall. The goal of the competition will be to see how many objects the fluid power mechanism can pick up from one platform, rotate, and place on another platform in a two minute period without touching any part of the wall.
With additional support from both Eaton Corporation and WCTC, engineers and staff from both organizations will be judging the student team's fluid power mechanisms and presenting awards in five categories – Overall Champion, Design Champion, Teamwork Champion, Portfolio Champion and Team Challenge Champion.
WHEN:
Friday, March 31, from 9:15 a.m. to 3:00 p.m.
9:15 a.m. to 12:00 p.m. constructing fluid power mechanisms
1:00 p.m. to 2:30 p.m. testing mechanisms in the two minute challenge
2:30 p.m. presentation of awards
WHERE:
Waukesha County Technical College
800 Main St., Building S Gymnasium, Pewaukee, WI 53072
Machine connectivity and control devices manufacturer to showcase state of the art battery disconnect switch
A world leader in power supplies, cordsets and I/O systems to decentralize automation systems in machines and applications, Murrelektronik will be exhibiting at the upcoming ConExpo Exhibition in Las Vegas, NV, USA.
"ConExpo is a great show for discovering the latest and greatest technologies impacting the construction industry," said Kristian Gullikson, Business Development Manager – Mobile at Murrelektronik. "We're excited to show the breadth of our product portfolio, including our 300A high current battery disconnect switch."
Designed for continuous duty switching and capable of handling loads up to 300A, the High Current Switch is IP67 rated. The switch provides the long-term reliability associated with non-mechanical solid-state components. Unlike traditional mechanical kill switches, the solid-state design means no moving parts and no degradation over time, therefore no need to replace switches every season. This is the level of superior component quality that has become synonymous with Murrelektronik.
Features and specifications of the 300A High Current Switch include:
• Internal protection for inductive load switching
• Operating voltage: 9 – 16.5V DC
• 300A Steady State
• 500A Inrush Current 1sec
• Max. Voltage Drop: .3V @ 150A
• 125mA Max. Current, 12V DC Control Input
• Switch ON Time: 50mSec
• Switch OFF Time: 150mSec
• DIMENSIONS (H x W x D): 2.75" x 4" x 4.5"
• WEIGHT: 1.5 lbs
Visit Murrelektronik in ConExpo's Bronze Hall, Booth B92213.
FasTest's revolutionary SMART technology verifies the connection before running a leak test.
FasTest, Inc. introduces Connection Verification™ technology to its industry leading pneumatically actuated FE Series and FI Series quick connectors. This new SMART technology provides a highly accurate electrical output with immediate connection status feedback.
Connection Verification enabled FasTest quick connectors increase production efficiency by reducing wasteful rework associated with regular leak test systems.
Connection Verification technology utilizes an embedded sensor in each FE and FI in a test cell to provide instantaneous connection status data to the user or PLC. This allows manufacturing personnel to immediately identify problem connections without having to diagnose each connection individually. Connection Verification is easily integrated into automated or bench top leak test stations, as well as pick and place and production filling applications. "Our Connection Verification technology was specifically designed to eliminate waste caused by unidentified failed connections during leak tests," said Dustin Sirny, Product Development Manager. "By signaling that a connection has failed prior to running a leak test, we are able to help our customers eliminate the diagnostic processes often caused by failed connections, drastically reducing unnecessary rework costs."
Contact Price today to see how this latest technology can help you!
Global provider of automation connectivity and control devices introduces first of its kind "xtreme DB" using Deutsch connectors.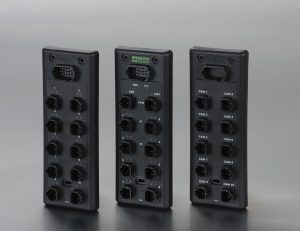 Murrelektronik, the global automation systems component provider announced today the availability of a distribution block designed to deliver more power and better performance to the mobile vehicles market. Designed with ports for Deutsch connectors, the new xtreme DB provides up to three times the current carrying capacity compared to blocks of similar size, along with design efficiencies that will help to transform the way control systems are developed by heavy-duty vehicle builders.
"The xtreme DB is a game changer," said Jon Halton, President of Data Panel, the Murrelektronik subsidiary that developed the block. "In one block you get a higher current rating, more I/O ports and stronger, more reliable power distribution with Deutsch connectivity."
xtreme DB blocks with Deutsch connectors have eight I/O ports and 16 configurable outputs and can do the work of multiple ordinary blocks using standard M12 connectors. As an example, in one competitive application for the rail industry, the number of blocks required would drop from 20 to 12, with an accompanying reduction in harness size, shorter cable runs and improved serviceability.
"We're delivering major quality and performance improvements in a versatile solution that will change how control panels are developed for specialty vehicles. I've never been more excited to introduce a new product," said Kristian Gullikson, Murrelektronik's manager for mobile business development.
The xtreme DB is specifically designed to meet the power distribution needs of heavy-duty vehicle manufacturers who build agricultural machines, railway and construction equipment, trucks for fire and rescue, road and utility maintenance, garbage collection, and other mission specific vehicles.
Murrelektronik's xtreme DB offers the push and lock dependability of Deutsch connectors in contrast to M12 connectivity, which can be prone to weak or loose connections in harsh locations. Deutsch connectors are specifically designed for critical applications in harsh environments where dust, dirt, moisture, salt spray, and rough terrain can contaminate or damage electrical connections and systems. The xtreme DB is available in five configurations and utilizes J1939, the standard communications network for sharing control and diagnostic information between electronic control units on heavy duty and commercial vehicles.
Interested in learning how xtreme DB can help you? Contact Price Engineering at 262.369.3700 today!
← Older posts
Signup Today
to get our monthly Enews delivered to your inbox.