← Older posts
New compact, bluetooth-configurable drivers are for mobile and industrial applications.
Sun Hydraulics has introduced the first product in the company's new line of low-cost, high-performance electronics developed in conjunction with recently acquired Enovation Controls of Tulsa, Okla. Sun's new XMD Bluetooth Configurable Electro-Hydraulic Drivers are both CE and E-Mark rated, achieving 100-V/m radiated immunity (Level 3, Class A) for the most demanding applications. That means
they're ready out of the box to meet the needs of international mobile and industrial equipment customers to control electro-hydraulic actuators used in on- and off-highway equipment in agriculture, forestry, construction, marine, earth moving, material handling
and many other applications.
The new XMD Drivers offer a range of advanced features, including simplified configuration via a free cell phone App, SAE J1939 CAN communication capabilities, a selection of pre-programmed profiles for common tasks, a comprehensive diagnostic mode and the
ability to easily shape and apply output curves.
"The XMD Drivers are the answer to customer requests for simple and configurable electronic control products that live up to Sun's reputation for quality and performance while delivering outstanding value in today's cost-conscious hydraulics market," said Gary
Gotting, Global Director of Product Management. "They combine Sun's hydraulics experience with Enovation's electronics expertise in a solution tailored to the present and future needs of the global mobile and industrial hydraulic markets."
The compact, 3.381 x 2.303 x 1.403 in (85.87 x 58.49 x 35.62 mm), XMD driver is completely sealed in an IP69K-rated, solid-potted enclosure engineered to stand up to the extreme environmental conditions frequently encountered in mobile and industrial hydraulic applications.
Initially offered in two models – the XMD-01 with a single universal input and PWM output and the XMD-02 with two universal inputs and two PWM outputs – the new drivers can handle a full range of common input formats, all of which are software configurable:
0-5 Vdc
0-10 Vdc
4-20 mA
Digital
60 Hz-5 kHz Pulse
60 Hz-2.5 kHz PWM
0-10 kΩ
SAE J1939 Messages
PWM outputs range from 0-3000 mA with ± 1-mA resolution at 0-5 kHz high-frequency PWM and the ability to superimpose 30-500 Hz dither in 1-Hz intervals to improve the performance and precision of controlled devices including pumps, valves, motors and cylinders.
Also included are integral diagnostics for open/short circuit detection, integrated flyback protection, a +5-Vdc reference output, and a 0-65-second ramp time programmable in 1-mS increments.
XMD Drivers are compatible with standard DIN 35-mm rails and can also be mounted to any flat surface such as a manifold block using an innovative snap-in-place installation bracket. The bracket allows the XMD Driver to be mounted either vertically or horizontally with the connector facing up/down/left/right as required by the application. Both the bracket and the XMD enclosure are patent pending.
Electrical connection is made via a standard 12-pin Deutsch connector. The XMD's open architecture allows many compatible connections and coil types, including DIN 43650, Amp Junior Timer, twin-lead, metri-pack and Sun's upcoming line of FLeX coils.
CAN bus communication is accomplished via a select set of core aspects of the SAE J1939 protocol which allow the XMD Driver to be configured as a remote CAN node. Used with a CAN display or master controller, the XMD Driver makes it easy to design and implement
small intelligent systems with minimal I/O investment.
Programming is accomplished with the XMD Mobile App available free from the Apple and Android stores. The app provides a simple way of incorporating I/O curves to linearize hysteresis in proportional valves for better and more linear performance. The I/O curves can
also be used to create non-linear outputs for greater usability and controllability of booms and hoists or develop a multi-speed output for motor control.
The app includes several pre-configured quick select profiles for typical single and dual coil applications that allow the XMD to be configured with a single tap of the screen. Each profile is supported by a detailed functional explanation that is available instantly to the user.
Once the XMD is configured, a password can be set to make diagnostic parameters viewable to service personnel while remaining tamper proof. If needed, an engineer can simply text, email, and even tweet the saved device configuration to service personnel with the
profile password.
With 5.2 software release, Sawyer will produce real-time performance, manufacturing data.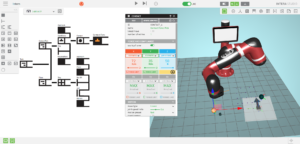 Rethink Robotics today announced the release of Intera® 5.2, an expansion of its first-of-its-kind Intera software platform that provides critical data insights to manufacturers in real time. Rethink Robotics' Sawyer™ gives operators and line managers valuable data at a glance, including metrics such as cycle time, part count, speed and force – data that has never before been available through a single collaborative robot vendor.
The new feature, Intera Insights, displays key performance indicators (KPIs) via a customizable dashboard on the robot's on-board display, making it accessible directly on the factory floor. The same charts are also fed back to the Intera Studio platform, providing visibility to other members of the manufacturing team. Intera Insights drives more informed production decisions and saves manufacturers time and money by eliminating the need to invest in or create another data collection system.
"Today's manufacturer relies heavily on data to optimize factory performance and adapt to market demand," said Scott Eckert, president and CEO, Rethink Robotics. "Intera Insights gives them the ability to instantly know how their line is working. We are providing the first-ever option for manufacturers to deploy collaborative robot automation and simultaneously gain valuable information about their line in a way that maps directly to action."
The Intera 5.2 release also includes extensive additions to Sawyer's vision capabilities. In addition to the embedded cameras that are standard with every Sawyer robot, manufacturers now have the option to seamlessly integrate an external camera in minutes. This will allow manufacturers to optimize cycle time with improved vision, or leverage in-house vision systems on Sawyer.
"With the arrival of Intera 5.2 and Intera Insights, our customers, among some of the leading manufactures in the world, now have un-paralleled access to the production data they need to prove KPIs and optimise their production processes", said Antony Lovedale, Managing Director, Active8Robots in the UK. "This information provides immediate value today while also working toward innovation tomorrow".
"Based on feedback we hear from customers, our software innovation continues to add value to the Sawyer robot," said Eckert. "We're bringing our data analytics, revolutionary ease-of-use in machine vision implementations and performance improvements to further deliver on our commitment that your Sawyer will get smarter, faster, and more capable over time.
Intera 5.2 will be available for download on all existing Sawyer robots and will come standard on all new robots. For more information contact Price Engineering.
Performance driven. Market priced.
Sun Hydraulics has just launched its new Sun FLeX™ family of competitively priced, high-performance electro-hydraulic products. These 16 completely new solenoid-operated cartridge valves and three new coils are the first products in the FLeX Series Solenoid Valves for both the mobile and industrial hydraulics markets.
Designed to outperform comparable valves in the market, FLeX Series solenoid valves deliver what you're looking for in a range of solenoid valves:
Consistently better pressure drop in a virtually leak-proof poppet-style valve
Designed and tested to exceed 10-million-cycle operations
Zinc-nickel plating standard (1000-hour salt fog) on valve and coil
Coil options that include interchangeable low-power, high-power and hazardous location (explosion-proof) versions for expanded configuration flexibility.
Valve and coil package that delivers a perfect market-priced solution.
The FLeX Series valves use Sun's unique floating-style design, adding an extra layer of security in those harsh applications where torque and force can become excessive. FLeX Series products are available for order now through Price Engineering and begin shipping in January, 2018.
FLeX Performance Advantages
FLeX valves offer significant performance advantages over competitive valves. For example, the FLeX DTBF normally closed, direct-acting blocking poppet valve, like all the FLeX valves, was designed with advanced Computational Fluid Dynamics (CFD) simulation tools to optimize flow path geometries. It is coupled with a solenoid actuator that provides optimized actuation force at critical points in the valve stroke. The result, as shown in the performance curves, is the following:
Lower pressure differential across the valve at a given flow rate
Increased shift performance at higher pressures and flows.
Performance Comparison – Sun's DTBF vs Competition
In practice, this means hydraulic systems utilizing the DTBF valves will see significant improvements in both efficiency and reliability while providing higher pressures and flow rates over competitors' products.

Bimba, an industry-leading innovator of pneumatic, hydraulic, electric, and vacuum motion solutions, has launched the Compact Hydraulic series of actuators. The Compact Hydraulic actuator product line complements Bimba's existing NFPA hydraulic products by offering significant space savings without sacrificing performance.
This new product family offers two series: Medium (CMH) and High Pressure (CHH). The CMH offers pressures up to 2030 PSI (140 Bar) whereas the CHH offers pressures up to 3000 PSI (206 Bar). Both series offer extended cylinder life through numerous standard features, including a hard-chrome plated steel piston rod that reduces wear on the rod wiper and seal. The CMH can provide an optional switch slot to easily integrate position sensing without compromising the space-saving design.
"The Compact Hydraulic product series is designed to offer performance and power in a small space," says Kerry Reinhardt, General Manager for Bimba | TRD. "This new series is ideal to meet the tight application demands that customers have been searching for, especially within the tool and die, work-holding, specials manufacturing, and plastic injection molding industries, among others."
Interested in learning more about the compact hydraulic actuators? Email or call Price Engineering today!
For high operating rations and efficient hydraulics.
With a speed-controlled motor, the efficiency of a hydraulic drive in the lathe can almost be doubled. The supply of the
functions is tailored to the needs and thus as efficient as possible. But other applications also benefit from this type of
drive, for example, by a very precise speed control. Read more from Hawe Hydraulics.
The addition of Poclain Hydraulics and Danfoss Drives round out a comprehensive portfolio.
Price Engineering, a leading distributor and systems integrator in the state of Wisconsin, continues to add to its supplier line-up with the additions of Poclain Hydraulics and Danfoss Drives.
Poclain Hydraulics is a world leader in hydrostatic transmissions based on high performance, cam-lobe and radial-piston motors. Price will have access to their full line of motors, pumps, valves, electronics and other related hydraulic components for mobile vehicles.
Danfoss, a global provider of industrial automation products, will work with Price to supply their Danfoss VLT® and Vacon variable frequency drives (VFD's). Used to control the speed and torque of electrical motors, the addition of these drives is an additional step in Price's automation strategy.
"We are proud to join forces with these two world class leaders in the hydraulic and VFD markets." says Tom Price Jr., president and CEO of Price Engineering. "With the addition of these two suppliers we are continuing to provide OEM's and users with a comprehensive portfolio of quality hydraulic and automation products."
Each of the product lines work well in industrial markets such as marine, construction, mining and rail. For both suppliers, Price's territory covers Wisconsin, Upper Michigan and Northern Illinois.
The addition of these suppliers comes only weeks after Price announced a distribution agreement with Rethink Robotics, a Boston, MA company that builds smart, collaborative robots.
Introduction of the Blue and Improved Flat-1®, including nineteen new features.
University Park, IL, USA – Bimba, an industry-leading innovator of pneumatic, hydraulic and electric motion solutions, today announced the release of the latest in its cutting edge, compact air cylinders – the Blue and Improved Flat-1®. "Blue (as in New) and Improved" designates Bimba products that have been redesigned to offer enhancements applying the most recent advances in design technology.
The Blue and Improved Flat-1® features 19 new product enhancements such as permanent grease lubrication, hard chrome-plated piston rods and an improved bumper design. The Blue and Improved Flat-1® continues the Blue and Improved program initiated a few years ago with the release of the Blue and Improved Original Line®.
Kent Sowatzke, Bimba's Chief Operating Officer, says, "The Blue and Improved Flat-1® project reflects Bimba's continued commitment to improving our core products and providing solutions that serve our customers in the compact cylinder market. For applications in which space is tight, the Blue and Improved Flat-1® offers durability and precision, across an industry-leading breadth of cylinder options."
Rethink Robotics' ClickSmart family of gripper kits shows that smart automation no longer stops at the wrist.
Rethink Robotics today announced the ClickSmart™ series, a unique solution for end-of-arm tooling that incorporates smart sensing and rapid swapping capabilities, resulting in the first fully integrated robotic solution available on the market through a single vendor.
Rethink's latest innovation to simplify robot deployments, the ClickSmart series, offers the new ClickSmart Plate, an intelligent toolplate that lets users swap end effectors in seconds, by hand and without any tools. Embedded sensors in the five new gripper kits enable intelligent grasping and smarter part handling on Rethink Robotics' Sawyer™ robot powered by the Intera™ 5 software platform.
The ClickSmart family of gripper kits contains the essential components that allow end users to quickly construct end effectors suitable for most automatable tasks, enabling faster deployments and saving manufacturers hours in programming and part sourcing. The ClickSmart series includes five different categories of gripper kits and a ClickSmart Plate with embedded sensing, gripper recognition and the ability to access actuators and sensors through Rethink Robotics' software platform.
"The ClickSmart family of gripper kits will allow our customers to deploy robots faster, more intelligently, in more tasks and applications and without any time-consuming customization," said Scott Eckert, president and CEO, Rethink Robotics. "Never before has a robot manufacturer offered a single source solution for fully integrated deployments. Through the combination of Sawyer, Intera 5 and ClickSmart, the single source is Rethink."
The ClickSmart family of gripper kits greatly reduces sourcing efforts for manufacturers, who no longer need to search through multiple catalogs to select components and compare prices. Instead, manufacturers can purchase a fully integrated solution from Rethink Robotics. The gripper kits are available in large pneumatic, small pneumatic, large vacuum, small vacuum and foam vacuum options.
Customizing an end effector can be a significant pain point for industrial robot users, as it requires specialized expertise in mechanical design, signal configuration and task flows that many manufacturers don't have on staff. A well-designed and easily configured end effector is vital to the success of the most high-performing and complete automation solutions, and will open up a variety of new applications for any robot.
With a simple click, manufacturers can switch out end effectors on the robot in seconds. The ClickSmart Plate has an embedded memory module, which stores the configuration of the attached end effector. When the ClickSmart Plate is attached to any Sawyer robot, the robot will immediately recognize the type of end effector and how to control it, with no programming needed.
"Rethink Robotics' ClickSmart family of gripper kits is a game changer for manufacturers who want to deploy these robots more quickly. These grippers allow more flexibility to switch tooling between applications.," said Phil Shaltz, President, Shaltz Automation. "Flexible robots and tooling in today's manufacturing environment is what is needed to provide efficiency and application differentiation in this ever-changing automation landscape."
The ClickSmart series will be available for purchase beginning in May. For more information, visit www.rethinkrobotics.com.
Join Price for two-full

days of keynote sessions, technical sessions, and a technology expo at the Fluid Power Technology Conference. The program will take place May 16-17, 2017 at the Milwaukee School of Engineering. Price customers receive a special registration rate of $150.
Visit http://www.fluidpowertechconference.com/marketing-price-engineering/ for more information.
Price to distribute Rethink's collaborative robots throughout Wisconsin
Wisconsin's manufacturing workforce may find themselves working alongside a robot in the near future thanks to a new distribution agreement between Price Engineering of Hartland, WI and Rethink Robotics of Boston, MA.
According to Tom Price Jr., President and CEO of Price Engineering, "Collaborative Robots, sometimes known as cobots, are changing the industrial landscape with their ability to take on dull and/or repetitive tasks that may be unappealing to human workers. They are specifically designed to integrate into the existing workforce and equipment, without the need for fixed guarding or even extensive programming knowledge."
"These robots are smaller, lighter and more cost effective as they complement a current work environment. The overall system is designed so existing staff can 'train' or 'retrain' the robot simply by moving the arm in the work motion they are looking for."
Scott Eckert, president and CEO at Rethink Robotics adds, "Technology is quickly changing modern manufacturing in the U.S. In order to stay competitive, companies are finding they need to automate manual processes. With Rethink's combination of hardware and software, combined with Price's integration and engineering knowledge, we are excited to be bringing Wisconsin's manufacturers the best resources to adapt automation technologies."
To date, Rethink's Robots have been deployed for several industry applications including CNC machining, metal fabrication, packaging and material handling and test and inspection processes.
Sawyer™, Rethink's latest Robot, weighs less than fifty pounds and features seven degrees of freedom allowing it to reach into tight spaces and various alignments in a work area. Able to "feel" and "see", Sawyer™ runs on Rethink's Intera™ software for easy training and implementation.
"Price Engineering continues to look for innovative solutions in the area of automation and motion control." says Price. "We are excited to work with Rethink Robotics, a U.S. based company, to help our customers automate their applications, address potential labor shortages and realize gains in productivity."
← Older posts
Signup Today
to get our monthly Enews delivered to your inbox.