← Older posts
Machine connectivity and control devices manufacturer to showcase state of the art battery disconnect switch
A world leader in power supplies, cordsets and I/O systems to decentralize automation systems in machines and applications, Murrelektronik will be exhibiting at the upcoming ConExpo Exhibition in Las Vegas, NV, USA.
"ConExpo is a great show for discovering the latest and greatest technologies impacting the construction industry," said Kristian Gullikson, Business Development Manager – Mobile at Murrelektronik. "We're excited to show the breadth of our product portfolio, including our 300A high current battery disconnect switch."
Designed for continuous duty switching and capable of handling loads up to 300A, the High Current Switch is IP67 rated. The switch provides the long-term reliability associated with non-mechanical solid-state components. Unlike traditional mechanical kill switches, the solid-state design means no moving parts and no degradation over time, therefore no need to replace switches every season. This is the level of superior component quality that has become synonymous with Murrelektronik.
Features and specifications of the 300A High Current Switch include:
• Internal protection for inductive load switching
• Operating voltage: 9 – 16.5V DC
• 300A Steady State
• 500A Inrush Current 1sec
• Max. Voltage Drop: .3V @ 150A
• 125mA Max. Current, 12V DC Control Input
• Switch ON Time: 50mSec
• Switch OFF Time: 150mSec
• DIMENSIONS (H x W x D): 2.75" x 4" x 4.5"
• WEIGHT: 1.5 lbs
Visit Murrelektronik in ConExpo's Bronze Hall, Booth B92213.
FasTest's revolutionary SMART technology verifies the connection before running a leak test. 
FasTest, Inc. introduces Connection Verification™ technology to its industry leading pneumatically actuated FE Series and FI Series quick connectors. This new SMART technology provides a highly accurate electrical output with immediate connection status feedback.
Connection Verification enabled FasTest quick connectors increase production efficiency by reducing wasteful rework associated with regular leak test systems.
Connection Verification technology utilizes an embedded sensor in each FE and FI in a test cell to provide instantaneous connection status data to the user or PLC. This allows manufacturing personnel to immediately identify problem connections without having to diagnose each connection individually. Connection Verification is easily integrated into automated or bench top leak test stations, as well as pick and place and production filling applications. "Our Connection Verification technology was specifically designed to eliminate waste caused by unidentified failed connections during leak tests," said Dustin Sirny, Product Development Manager. "By signaling that a connection has failed prior to running a leak test, we are able to help our customers eliminate the diagnostic processes often caused by failed connections, drastically reducing unnecessary rework costs."
Contact Price today to see how this latest technology can help you!
Global provider of automation connectivity and control devices introduces first of its kind "xtreme DB" using Deutsch connectors.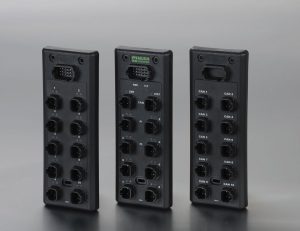 Murrelektronik, the global automation systems component provider announced today the availability of a distribution block designed to deliver more power and better performance to the mobile vehicles market. Designed with ports for Deutsch connectors, the new xtreme DB provides up to three times the current carrying capacity compared to blocks of similar size, along with design efficiencies that will help to transform the way control systems are developed by heavy-duty vehicle builders.
"The xtreme DB is a game changer," said Jon Halton, President of Data Panel, the Murrelektronik subsidiary that developed the block. "In one block you get a higher current rating, more I/O ports and stronger, more reliable power distribution with Deutsch connectivity."
xtreme DB blocks with Deutsch connectors have eight I/O ports and 16 configurable outputs and can do the work of multiple ordinary blocks using standard M12 connectors. As an example, in one competitive application for the rail industry, the number of blocks required would drop from 20 to 12, with an accompanying reduction in harness size, shorter cable runs and improved serviceability.
"We're delivering major quality and performance improvements in a versatile solution that will change how control panels are developed for specialty vehicles. I've never been more excited to introduce a new product," said Kristian Gullikson, Murrelektronik's manager for mobile business development.
The xtreme DB is specifically designed to meet the power distribution needs of heavy-duty vehicle manufacturers who build agricultural machines, railway and construction equipment, trucks for fire and rescue, road and utility maintenance, garbage collection, and other mission specific vehicles.
Murrelektronik's xtreme DB offers the push and lock dependability of Deutsch connectors in contrast to M12 connectivity, which can be prone to weak or loose connections in harsh locations. Deutsch connectors are specifically designed for critical applications in harsh environments where dust, dirt, moisture, salt spray, and rough terrain can contaminate or damage electrical connections and systems. The xtreme DB is available in five configurations and utilizes J1939, the standard communications network for sharing control and diagnostic information between electronic control units on heavy duty and commercial vehicles.
Interested in learning how xtreme DB can help you? Contact Price Engineering at 262.369.3700 today!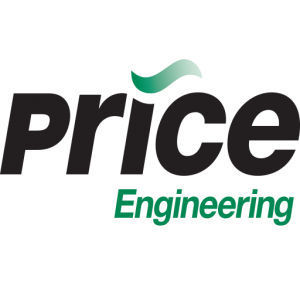 Tom Price Jr. was a keynote presenter this year at the Fluid Power Technology Conference. His focus was on the future and sustainability of fluid power. 
Most of us focus on our latest project or deadline with a "nose-to-the-grindstone" mentality. It's also worthwhile to occasionally step back and look at the big picture, says Tom Price, president of Price Engineering. In his keynote presentation at Fluid Power World's recent Technology Conference in Milwaukee, he pondered some mega trends affecting society, and what they mean to the fluid-power industry.
Read the entire article at Fluid Power World.

Fluid Power Journal spoke with Price Engineering owner, Thomas Price Jr. to discuss the recent growth in the integration of electronics and hydraulics.
The integration of electronics and hydraulics has grown dramatically in recent years, but not everyone has jumped on the bandwagon. For those considering implementing electro-hydraulic (EH) solutions, the key question often boils down to: "How do you know when you're ready?" To answer that question, those considering EH implementation should consider the benefits available, evaluate areas that can best capitalize on those benefits, and develop a game plan for implementation.
Read the entire article in Fluid Power Journal.

Small Pump. Big Power.
Around the world, engineers are leveraging Eaton X20 open-circuit piston pumps to get better power density in their mobile equipment. The reliability, productivity and efficiency of these small, lightweight pumps makes them an ideal solution for a wide range of medium pressure mobile equipment – including Tier IV applications.
Drive Fuel Efficiency.
Known for providing stability and fuel efficiency in a variable speed fan drive system, the X20 portfolio of products is typically used in the construction, mining, agriculture and on-highway market segments.
Product Features
Keep operations up and running
Robust, simple design with fewer parts
Unique control piston design that minimizes friction Long bearing life
Case to inlet check valve to reduce pressure spikes and protect the shaft seal
Maximize power for a more efficient pump
Low pump stand-by pressure (~150 psi) enables energy savings by reducing heat generation and wasted flow
Optimized valve plate design
Bronze shoe design that stands up against contamination
Compact package size to fit with Tier 4 engine requirements
Get the job done faster
Fastest response and recovery times in the market
High horsepower capability
X20 controls offering
Pressure Control limits outlet pressure to a set maximum
Load Sense limits outlet pressure to a set margin above load pressure
Cold Start forces pump to near-neutral when electrical current is applied
Torque Control limits pump torque to a set maximum
Remote Pressure Control limits outlet pressure proportional to signal pressure. It's ideal for applications where frequent system pressure adjustment is required due to workload requirements.
Fan Drive Control limits outlet pressure negatively proportional to signal current. Performance benefits include great control stability, higher max pressure setting, and the wider pressure setting range.
Interested in being part of the X20 experience?
Contact us to learn how you can have an X20 prototype expertly installed for free!
Price Engineering has developed a new range of hydraulic reservoirs designed to be as much as 90% smaller and lighter than conventional hydraulic reservoirs. The Cyclone Hydraulic Reservoirs are engineering fro mobile hydraulic systems up to 100 GPM.
Read the full article from Diesel Progress.
A Hartland firm says it's stepping up technology aimed at making big machines, such as garbage trucks and construction equipment, more efficient and better for the environment.
Price Engineering made its announcement Tuesday at a fluid power technology conference that continues Wednesday, from 8 a.m. to 5 p.m., at Milwaukee School of Engineering.
Price says it's collaborated with Solar Plastics, of Delano, Minn., on the development and manufacture of new hydraulic fluid systems that, in some cases, reduce the amount of toxic, mineral-based fluid used by more than 90%.
See the entire article at the Milwaukee Journal Sentinel. 
Modern design can be 10-20 times smaller than traditional reservoirs
Hartland, Wis. – Price Engineering of Hartland, WI and Solar Plastics of Delano, MN, have collaborated on the development and manufacturing of new hydraulic reservoirs that are certain to revolutionize the industry. Sized 10 to 20 times smaller than traditional hydraulic reservoir systems, the new Cyclone Hydraulic Reservoirs require less fluid volume, reduces weight, diminishes air and occupies a smaller space. The new Cyclone Reservoirs will officially be unveiled at the Fluid Power Technology Conference being held at Milwaukee School of Engineering's Kern Center, June 21-22, 2016.
"Hydraulic Reservoirs, which are used to power anything from machine tools to garbage trucks, really haven't changed much in design over the past 30 years. The new Cyclone Hydraulic Reservoirs are noteworthy because they are so much smaller than the traditional Reservoir," says Terry Glidden, managing director at Price Engineering.
"They can be sized smaller because they dissipate air more rapidly. The technology removes suspended air from the hydraulic fluid with cyclonic action. The strong rotational movement within the Cyclone Reservoir creates centrifugal forces which  combine, and push, air bubbles to the center of the reservoir, and eventually, out the reservoir via what we call a breather cap."
Sam Rosen, vice president of sales at Solar Plastics says, "Many original equipment manufacturers (OEM) in the U.S. are using the Cyclone technology in demanding applications. They are reporting significant cost savings, especially in the nylon Cyclones as compared to a traditional Reservoir."
To date, Cyclone Reservoirs have been successfully deployed in several off-highway vehicles, watercraft, military, agricultural and snow removal equipment and conveyors.
The new Cyclone Reservoirs are currently available in 10, 20 or 40 GPM roto-molded nylon or 10, 20, 40 or 60 GPM steel models. However, the ability to rapidly prototype (3D printed) nylon models allows for customized configurations in just a few days.
"With the dramatic cost savings these Reservoirs are already proving to provide I think it is safe to say they will one day become the industry norm." says Glidden. "It is an extremely exciting development for our industry. One that has been many years in the making."
To learn more about Cyclone Hydraulic Reservoirs visit www.cyclonehydraulics.com or call 262-709-7400.
Ron Durante, Price On-Site
You have heard it before: the biggest issue associated with hydraulic system failure is contamination. Over and over again it is stated, and our field service technicians confirm, that 75 to 80 percent of hydraulic problems are related to contamination. Our techs are considered hero's simply by going out on a service call, pulling out a cartridge valve, cleaning it with brake cleaner and compressed air and reinstalling it. When in fact, 90 percent of the systems we work on don't meet the ISO cleanliness target set forth by the manufacturer for the system's most sensitive component. If your system operates intermittently, the prime mover operates at RPMs less than 1800 and pressures are less than 2500 PSI, you probably are not experiencing contamination related issues with your hydraulic system. But, if you're running at higher RPMs, higher pressures, have multiple shifts and the company, along with customers, depend on this piece of equipment to be in service then do what it takes to hit your cleanliness target. Once you hit the your cleanliness target and maintain operation at this level, you can expect the system components to last three times longer. The clean, cool oil will last five times longer and you will experience a significant drop in machine downtime.
Simply put, you need to particle count to get a baseline of current contamination levels. All team members should be involved and educated so they understand the importance of correct filtration and fluid handling, training can be the most important step in the process. Help maintenance technicians understand correct fluid handling procedures and what an ISO code of 16/14/12 means. However, most of all, realize that any maintenance, no matter how careful, will introduce contamination.
Once you have a particle count baseline, you need to install the correct filters and breathers, seal up the system and most likely install a recirculation loop. After twenty-four hours, particle count again to confirm the cleanliness target is achieved. If done correctly, you will beat and never rise above the target which allows you to perform maintenance events. Remember, each time your ISO code goes up, the level of contaminates doubles. Miss it by two codes and your oil is four times as dirty. If you beat it by a code, you halved the amount of contaminates being introduced to components. Your success or failure can be measures by particle counts in an oil sample. The overall goal in a practical contamination control plan is to keep the system clean to the point that contamination is no longer a factor in component failure.
Practical contamination control is one of the least expensive way to improve the life of your hydraulic system. The associated costs are always less than equipment downtime and repairs. With contamination the causes are obvious, the solutions available, the benefits great and the return on investment is almost immediate.
← Older posts
Signup Today
to get our monthly Enews delivered to your inbox.